Juliet Rose has the reputation of being the most expensive flower in the world. It is apricot in color and has a delicious peachy fragrance. This shrub has an exceptional health and vigor and they are not susceptible to the diseases. Let us know everything in detail about this amazing flower that costs as much as 3 million pounds. Interesting? Read more to find out everything about this flower.
Juliet Rose Overview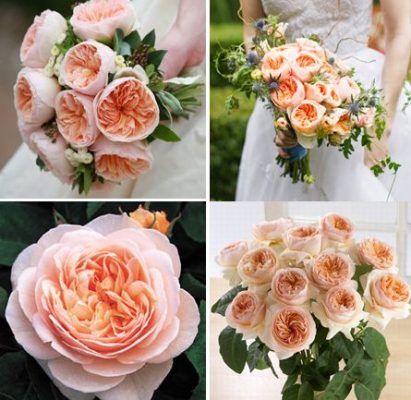 Juliet rose is a distinctive full cupped rose with beautiful distinctive petals. Its color resembles that of an apricot and it has a pleasing smell. This beautiful English Rose was developed by David Austen in the year 1978 and it took him 15 years to do so. This rose bush sends up plenty of upright branches right from the base.
How Do Juliet Roses Appear?
This medium-sized, double shallow cupped flowers look immensely beautiful and have an exceptional health. Blooming in flushes from late spring to fall these roses are excellent repeat bloomer. They grow up to 3 to 3.5 feet tall. This ravishing rose brush can be a superb addition to your garden and can fill the entire ambiance with a sweet smell. It is perfect for the hedges and screens.
The shrub is grown well in a rich, fertile and well-drained soil and it is so beautiful that it named after Shakespeare's Romeo and Juliet. This romantic English Rose has a reliable garden performance and vigorous growth. It is disease resistant and gives a full-bloom. They are the most popular and favorite flowers for the flower shows.
How to Take Care of Juliet Roses?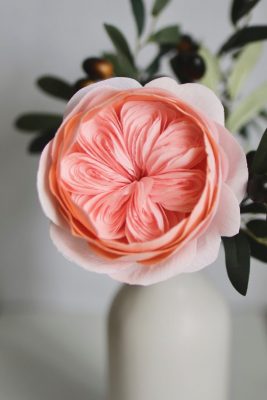 You can better imagine the amount of care the plant needs by the very fact that it takes 15 years for David Austin to develop them. If you are ready to dedicate your time for gardening then only you should consider planting them.
What should be the Planting Distance Between the Roses?
If you want a very good bloom, you should consider planting these roses in tight groups of three. This enables the roses to grow together and a dense shrub like appearance is formed. This arrangement helps you take care of the shrub easily. Plant the brushes approximately 18 inches from each other. To make these one of the best luxurious flowers, proper care is required in order to get best results.
What Type of Soil Should be Preferred?
Though these roses can grow in all types of soil but whether loamy, sandy or clayey but you need to take a very good care without which you would not be able to get the desirable produce and bloom.
It is important to keep the soil well-aerated. If taken care of properly this flower plant gives a good bloom and remains healthy as they are not susceptible to the diseases. It is important to put a good amount of manure from time to time.
You should never allow the roots to dry up any time during the planting so that it does not wilt.
How to Plant Juliet Rose?
You should consider planting Juliet roses only on the place where they can receive maximum amount of sun for at least 6 hours or more than that. Ample amount of moisture and nutrients are also required when you need a full bloom.
The plants should be at the distance of 3-6 feet apart. They should receive a good amount of air circulation also so that they thrive well and remain free from any kind of foliar diseases.
Prior to planting these roses you should soak the bare roots of the plants in water for a number of hours to ensure that are adequately hydrated. Also, you should select a soil site which is well-drained. Pruning in the early winter and in the late fall can prevent the flower from any type of damage caused by the winter winds.
Besides that, if you want to maintain an attractive shape of the flower, you have to do the minor pruning as well. Major pruning is to be done during the early spring when the leaves turn green.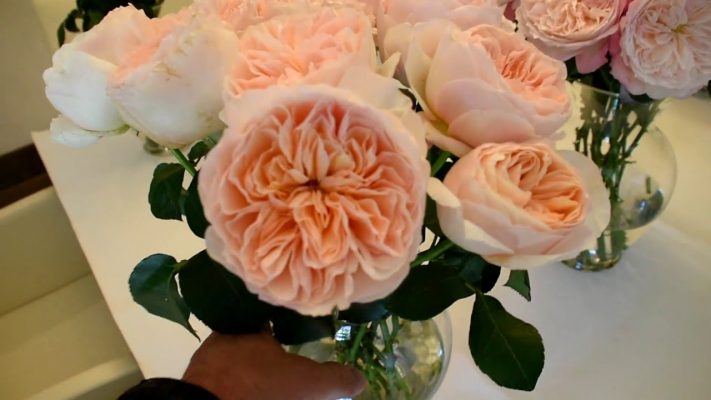 Fertilizers and Watering:
How-to : Fertilization for Established Plants
Like other shrubs, Juliet rose needs to be fertilized once a year. A soil test can help you determine the nutrients present in the soil. You can use the fertilizers which are high in nitrogen for a better bloom. Excess of nitrogen in the soil can lead to the excessive vegetative growth but development of the flower bud gets hampered. So, it is better to avoid it.
Favorable Conditions:
The shrub requires more than 6 hours of direct sun per day for an unhampered growth.
How to water Juliet Rose?
Moist and well-drained soil is just the right one for this shrub. So, the soil should be kept moist and does not have to be soggy. Hence it is good not to water it too much. A three inch layer of mulch is helpful in maintaining moisture of the soil and can help the rose plant grow faster than the non-mulched ones.
Problems With the Juliet Rose Shrub:
It is important to note that a proper care of this exclusive flower is necessary. If you do not water it from time to time or forget fertilizers, pruning, sprinkling pesticides and mulching, your shrub can catch mites, aphides, mildews and more. The rose can also be influenced by a rose disease known as black spot which is fungus.
A good care and cultural practice can save your plant from any harm. Also, sanitazation is a must from time to time to keep the pests at bay.
There are certain other things to keep in mind about the Juliet roses. The fragrance from the blooms differs when the shrub ages. So, in the beginning you would experience tea rose smell and then you would feel the smell turning peachy after some time. It is good to note that Juliet rose is repeated bloomer.
You will see blooming right from the late spring to the fall of season. These medium-sized, double shallow cupped apricot shaded flowers need a good amount of care.